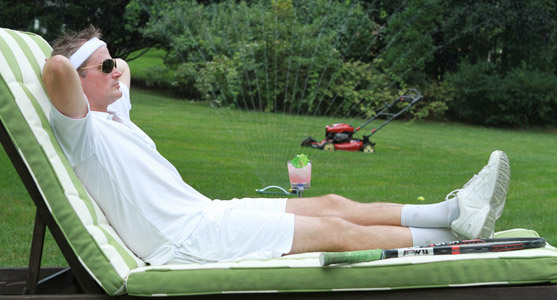 Baltimore suburbanite John LT delivers big East Coast Power Pop emblematic of his singer/songwriter approach and his New York roots. Driven by piano chops honed since he was eight years old and a powerful voice, LT's songs combine catchy melodies, soaring harmonies, and choruses that merrily bounce around in the listener's head. There's something for everyone in his music—whether as a casual listener or as one delving into his thoughtful lyrics worthy of his Georgetown University English degree. Heidi Drockelmen of Indie-Music.com says of LT's music, "There's an ease, experience, and evolution that speaks across generations."
His third studio album and first on the Mother West label, Suburban Superstar looms as LT's most ambitious project yet, featuring sonic elements that are as whimsical as the songs themselves. This time around, LT hand selected an all-star cast of musicians to bring his vision to life. With Bryan Ewald (Rachael Yamagata, The Temptations) and Jack McLoughlin (The Alckemists) on guitar duties, John Thomakos (Cirque du Soleil) on drums, Matt Basile (Mother Feather) on electric and upright bass, Claudia Chopek (Bruce Springsteen, Moby, Norah Jones) on violin, and a host of other talented players, the record grooves, soars and sings. Created with producer Charles Newman (Magnetic Fields, The Davenports, Tim Myers), in an "anything goes" studio environment at Ring of Fire in Baltimore, Downtown Music Studios and Newman's Soho Cottage Sounds in NYC, the traditional piano rock band playfully incorporates timpani, banjo, horns, woodwinds and strings, a porter bell, and even a plastic jug filled with rubber washers into interesting and well-executed adventerous arrangements.
John LT's "Promises" was recently included on the compilation CD from Brazilian novella Amor Eterno Amor alongside artists such as Julio Iglesias, Bread, Jason Mraz, Colbie Caillat, Band of Horses and more. Other credits include TNT's Saving Grace, MTV's True Life, and independent film Soulmates. The new song "Lottery Ticket" from Suburban Superstar is to be included in an upcoming compilation CD release from PopGeekHeaven.com. LT has performed The National Anthem at Oriole Park at Camden Yards, and played venues such as Rams Head Live! (Baltimore, MD), the Virginia Wine Festival (Floyd, VA), the Fairfax County Festival (Fairfax, VA), the Maryland Arts Festival (Towson, MD), Baltimore's Inner Harbor, the Hard Rock Cafe (Baltimore, MD), and Woodrow Wilson Plaza (Washington, DC), among many others.
Suburban Superstar has arrived, so break out the 8-track, strap on the headphones and start your foot tapping!
Musicians
John Thomakos (Drums) I wanted to play with John ever since a mutual friend insisted that I come out to see him work wonders on a small kit at a Baltimore club. John has done two tours with Cirque du Soleil, where they created a drum solo during the show just to showcase his talents. Suburban Superstar is the first project we've done together, and when he wasn't sniffing the highlighter to lighten the mood in the studio, he was laying down some bassass tracks.

Eric Scott (Bass) An award-winning singer/songwriter in his own right, Eric Scott joins the live act for Suburban Superstar shows. Eric has released three CDs of his own music, toured internationally, and regularly creates one of the area's best rhythm sections when locking with John Thomakos for live shows in Washington, DC and Baltimore.

Bryan Ewald (Guitar) Bryan has always been there to lend guitar-buying advice to me on behalf of my son! He is the consummate professional, touring internationally with Rachael Yamagata and The Temptations, and has a lot of tricks in his bag—so I've got that going for me...which is good.

Jack McLoughlin (Guitar) This 17-year-old phenom has studied electric guitar under Bryan Ewald, jazz guitar under Carl Filipiak, and classical guitar under Paul Wu (New York Guitar Quartet). Jack has toured the Northeast, released an EP of original material with his band The Alckemists, and already has extensive studio experience.

Marty Wachter (Drums) I've been playing with Marty (the most organized gig-packer you ever saw) for over ten years now. Fellow Berklee grad like Producer Charles Newman, Marty not only makes music with anything that can be shaken, dropped or hit, but he also patented and manufacturers the music industry's most reliable electronic cymbal triggers (and cymbals) for his company, Smartrigger.

Gary Young (Guitar) If you give Gary the first four notes of any song...he'll play it. Whether everyone else wants him to or not. Gary uses his perfect pitch for both good and evil, but there's no denying his raw talent and skill. Accomplished on both guitar and piano, Gary has also been known to sit in with local bands who need an above-average drummer in a pinch.

Len Sitnick (Bass) Len is the guy who got me back into live performing again all those years ago by introducing me to his musical friends! A student of his instrument, Len decided to share his skills with kids of all ages when he founded the Baltimore School of Rock, which he turned into one of the most successful SoR franchises in the country. Len plays, teaches, and travels, but does not actually ever sleep.

Dave Weber (Guitar) - No one is more prepared than Dave. No one. Just one rehearsal with Dave will send the most seasoned professional back to the rehearsal room. An excellent guitarist and composer in his own right, Dave has become Music Director of his local church, which features some of the area's top musicians during its services. Dave inspires others by looking at life's difficulties as challenges, and has relentlessly challenged me to push my writing and performing skills.